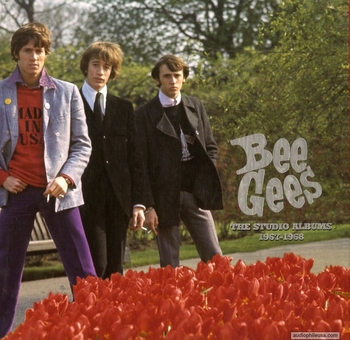 Bee Gees
The Studio Albums 1967-1968
2007 6LP Box Set. "The Studio Albums 1967-1968" is a compilation which It includes their first four studio albums, "Bee Gees' 1st" (1967), "Horizontal" (1968), "Idea" (1968), and "Odessa" (1969).
The Bee Gees were formed in 1958 in Redcliffe, Queensland, Australia, by brothers Barry, Robin, and Maurice Gibb. They initially gained success in Australia and the UK in the mid-1960s with their pop and rock music, influenced by the Beatles and other British bands.
Their first album, "Bee Gees' 1st," was released in 1967 and included their breakthrough hit "To Love Somebody." The album was praised for its unique blend of pop, rock, and psychedelic music.
In 1968, the Bee Gees released "Horizontal," which featured the hit singles "Massachusetts" and "World." The album showcased their growing songwriting skills and harmonies. Later that year, they released "Idea," which included the hit song "I've Gotta Get a Message to You."
However, the recording of their next album, "Odessa," was plagued by tension and disagreements within the band, resulting in Maurice Gibb temporarily leaving the group. The album was released in 1969 and was a departure from their previous sound, incorporating elements of orchestral and country music. It was not as commercially successful as their previous albums.
Overall, "The Studio Albums 1967-1968" showcases the Bee Gees' evolution as a band during this period and their contribution to the pop and rock music of the late 1960s.
Condition:


Vinyl:

Near Mint (NM or M-)

Sleeve:

Near Mint (NM or M-)
Track List
| | | |
| --- | --- | --- |
| A1 | Turn Of The Century | |
| A2 | Holiday | |
| A3 | Red Chair Fade Away | |
| A4 | One Minute Woman | |
| A5 | In My Own Time | |
| A6 | Every Christian Lion Hearted Man Will Show You | |
| A7 | Craise Finton Kirk Royal Academy Of Arts | |
| B1 | New York Mining Disaster 1941 | |
| B2 | Cucumber Castle | |
| B3 | To Love Somebody | |
| B4 | I Close My Eyes | |
| B5 | I Can't See Nobody | |
| B6 | Please Read Me | |
| B7 | Close Another Door | |
| C1 | Turn Of The Century (Early Version) | |
| C2 | One Minute Woman (Early Version) | |
| C3 | Gilbert Green | |
| C4 | New York Mining Disaster 1941 (Version 1) | |
| C5 | House Of Lords | |
| C6 | Cucumber Castle (Early Version) | |
| C7 | Harry Braff (Early Alternative Version) | |
| D1 | I Close My Eyes (Early Version) | |
| D2 | I've Got To Learn | |
| D3 | I Can't See Nobody (Alternative Take) | |
| D4 | All Around My Clock | |
| D5 | Mr. Wallor's Wailing Wall | |
| D6 | Craise Finton Kirk Royal Academy Of Arts (Alternative Take) | |
| D7 | New York Mining Disaster 1941 (Version 2) | |
| E1 | World | |
| E2 | And The Sun Will Shine | |
| E3 | Lemons Never Forget | |
| E4 | Really And Sincerely | |
| E5 | Birdie Told Me | |
| E6 | With The Sun In My Eyes | |
| F1 | Massachusetts | |
| F2 | Harry Braff | |
| F3 | Day Time Girl | |
| F4 | The Earnest Of Being George | |
| F5 | The Change Is Made | |
| F6 | Horizontal | |
| G1 | Out Of Line | |
| G2 | Ring My Bell | |
| G3 | Barker Of The U.F.O. | |
| G4 | Words | |
| G5 | Sir Geoffrey Saved The World | |
| G6 | Sinking Ships | |
| G7 | Really And Sincerely (Alternative Version) | |
| H1 | Swan Song (Alternative Version) | |
| H2 | Mrs. Gillespie's Refrigerator | |
| H3 | Deeply Deeply Me | |
| H4 | All My Christmases Came At Once | |
| H5 | Thank You For Christmas | |
| H6 | Medley: Silent Night/Hark The Herald Angels Sing | |
| I1 | Let There Be Love | |
| I2 | Kitty Can | |
| I3 | In The Summer Of His Years | |
| I4 | Indian Gin And Whisky Dry | |
| I5 | Down To Earth | |
| I6 | Such A Shame | |
| I7 | I've Gotta Get A Message To You | |
| J1 | Idea | |
| J2 | When The Swallows Fly | |
| J3 | I Have Decided To Join The Airforce | |
| J4 | I Started A Joke | |
| J5 | Kilburn Towers | |
| J6 | Swan Song | |
| K1 | Chocolate Symphony | |
| K2 | I've Gotta Get A Message To You (Mono Single) | |
| K3 | Jumbo | |
| K4 | The Singer Sang His Song | |
| K5 | Bridges Crossing Rivers | |
| K6 | Completely Unoriginal | |
| L1 | Idea (Alternative Mix) | |
| L2 | Kitty Can (Alternative Mix) | |
| L3 | Come Some Christmas Eve Or Halloween | |
| L4 | Let There Be Love (Alternative Mix) | |
| L5 | Gena's Theme | |
| L6 | Another Cold And Windy Day (Coke Spot#1) | |
| L7 | Sitting In The Meadow (Coke Spot#2) | |