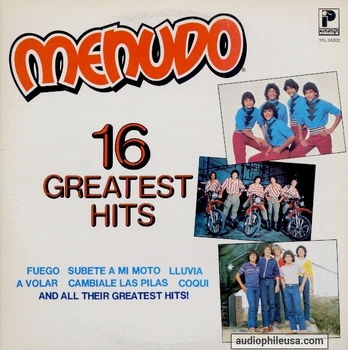 Menudo
1984 US Original Vinyl Compilation. Strong VG++ Copy. "16 Greatest Hits" Is A Compilation Album By The Puerto Rican Boy Band Menudo. The Album Was Released In 1987 By Rca Records And Includes Some Of The Group's Most Popular Songs From The Early 1980s.
Menudo Was Formed In 1977 And Became One Of The Most Successful Boy Bands Of All Time. The Group Was Known For Its Constantly Changing Lineup, With Members Aging Out Of The Band And Being Replaced By Younger Performers.
The Songs Featured On "16 Greatest Hits" Were Recorded During A Period When Menudo Was At The Height Of Its Popularity. The Album Includes Hits Such As "Claridad," "Rock En La TV," And "Subete A Mi Moto," Which Was A Massive Hit Throughout Latin America And Helped To Establish Menudo As A Major Force In The Music Industry.
Despite Constant Lineup Changes, Menudo Remained Popular Throughout The 1980s And Early 1990s. The Group Disbanded In 1995 But Has Since Reunited For Several Concerts And Special Events. "16 Greatest Hits" Remains A Popular Album Among Menudo Fans And Is Seen As A Definitive Collection Of The Group's Best-Known Songs.
Condition:


Vinyl:

Very Good Plus (VG+)

Sleeve:

Very Good Plus (VG+)
Track List
| | | |
| --- | --- | --- |
| A1 | Subete a mi Moto | 3:32 |
| A2 | Señora Mia | 3:47 |
| A3 | Dulces Besos | 3:25 |
| A4 | Quiero Rock | 2:21 |
| A5 | Es Por Amor | 3:43 |
| A6 | A Volar | 4:16 |
| A7 | A Bailar | 2:53 |
| A8 | Cielto Lindo | 2:19 |
| B1 | Cambiale las Pilas | 3:28 |
| B2 | Lluvia | 3:04 |
| B3 | Fuego | 3:38 |
| B4 | Coqui | 3:06 |
| B5 | Queiro Ser | 3:06 |
| B6 | Ella-a-a | 2:57 |
| B7 | Y Yo No Bailo | 2:44 |
| B8 | Claridad | 3:50 |