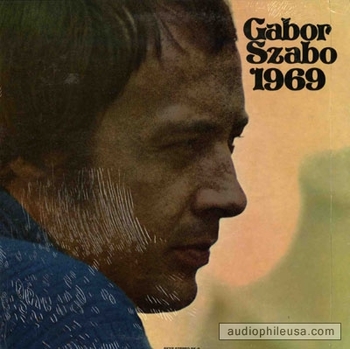 Szabo, Gabor
Rare 1969 Stereo Original Housed In A Heavy-Duty Laminated Gatefold Cover. Appears Glossy "1969" is an album by Hungarian guitarist Gabor Szabo. It was Produces By Gary McFarland in 1969 and released the same year on the Skye Records label.
Gabor Szabo was a jazz guitarist who was born in Hungary in 1936. He moved to the United States in 1956 and began playing with various jazz musicians, including Chico Hamilton and Charles Lloyd. He released his first album as a leader in 1965 and went on to record a number of successful albums throughout the 1960s and 1970s.
"1969" is considered one of Gabor Szabo's best albums. It features a mix of jazz, rock, and world music influences and includes a number of original compositions as well as covers of popular songs like "In My Life" by The Beatles and "Stormy" by Classics IV.
The album was well-received upon its release and has since become a cult classic. It has been reissued several times on CD and vinyl and is still considered a must-have for fans of jazz guitar and fusion music.
Condition:


Vinyl:

Very Good Plus (VG+)

Sleeve:

Near Mint (NM or M-)
Track List
| | | |
| --- | --- | --- |
| A1 | Dear Prudence | 2:37 |
| A2 | Sealed With A Kiss | 2:41 |
| A3 | Both Sides Now | 2:54 |
| A4 | Walk Away Renee | 2:42 |
| A5 | You Won't See Me | 3:31 |
| A6 | Michael From Mountains | 3:56 |
| B1 | Stormy | 3:12 |
| B2 | In My Life | 2:25 |
| B3 | I've Just Seen A Face | 4:30 |
| B4 | Until It's Time For You To Go | 2:18 |
| B5 | Somewhere I Belong | 3:33 |