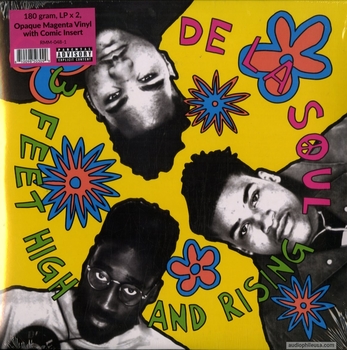 De La Soul
Sealed 2023 2LP Reissue, Pressed On Opaque Yellow Vinyl With Comic Insert. One Of The True Landmark Records In The History Of Hip-Hop. "3 Feet High And Rising" Is The Debut Album By American Hip Hop Group De La Soul, Released On March 14, 1989. The Album Was Produced By Prince Paul, Who Was A Member Of The Group Stetsasonic, And Was Released On Tommy Boy Records.
The Album Was A Critical And Commercial Success, And Is Widely Considered One Of The Most Influential And Groundbreaking Hip Hop Albums Of All Time. The Album's Innovative Sampling Techniques, Use Of Unconventional Sounds And Incorporation Of Elements Of Funk, Jazz, And Soul Into The Group's Hip Hop Sound Helped To Establish De La Soul As Pioneers In The Genre.
The Album's Title Comes From The Johnny Cash Song "Five Feet High And Rising." The Group Originally Wanted To Call The Album "In 3-d," But Changed The Title When They Discovered That Another Group Had Already Used That Name.
"3 Feet High And Rising" Features A Number Of Hit Singles, Including "Me Myself And I," "The Magic Number," And "Buddy." The Album Also Includes Several Skits And Interludes, Which Were An Important Part Of The Group's Creative Approach.
The Album's Success Helped To Establish De La Soul As One Of The Most Important And Influential Hip Hop Groups Of The Late 1980s And Early 1990s. They Went On To Release Several More Critically Acclaimed Albums, And Continue To Be Active In The Hip Hop Scene Today.
Type:

Colored Vinyl - New

Condition:


Sleeve:

Near Mint (NM or M-)