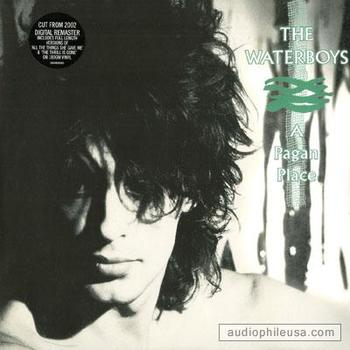 Waterboys
Sealed 2014 180gm Import Reissue. Digital Remaster, Including Full Length Versions Of "All The Things She Gave me" & "The Thrill Is Gone". The Waterboys Are A Scottish-irish Folk Rock Band Formed In Edinburgh In 1983 By Scottish Musician Mike Scott. The Band's Original Lineup Consisted Of Scott, Anthony Thistlethwaite (Saxophone, Mandolin), Karl Wallinger (Keyboards, Guitar), Steve Wickham (Fiddle), And Kevin Wilkinson (Drums). The Band's Early Sound Was Heavily Influenced By Traditional Irish And Scottish Folk Music, But Over Time They Incorporated Elements Of Rock, Soul, And Pop Into Their Sound.
"A Pagan Place" Is The Band's Third Studio Album, Released In 1984. The Album Was Recorded In The Uk And Germany And Was Produced By Mike Scott And Mick Glossop. The Album Features The Hit Single "The Big Music", Which Became A Signature Song For The Band. The Album Received Critical Acclaim Upon Its Release And Is Considered A Classic Of The Folk Rock Genre.
The Album's Title Comes From A Poem By Scottish Poet George Mackay Brown, And The Album's Lyrics Explore Themes Of Spirituality, Nature, And Mythology. The Band's Sound On The Album Is Characterized By Lush, Atmospheric Instrumentation, With Fiddles, Mandolins, And Bagpipes Adding To The Album's Folk Influences.
Overall, "A Pagan Place" Is Seen As A Pivotal Album In The Waterboys' Career And Helped Establish Them As One Of The Leading Bands In The Folk Rock Genre. The Album's Success Paved The Way For The Band's Future Commercial And Critical Success, And It Remains A Beloved Album Among Fans Of The Band And The Genre.
Track List
| | | |
| --- | --- | --- |
| A1 | Church Not Made With Hands | |
| A2 | All The Things She Gave Me (Full Length) | |
| A3 | The Thrill Is Gone (Full Length) | |
| A4 | Rags | |
| B1 | Somebody Might Wave Back | |
| B2 | The Big Music | |
| B3 | Red Army ? Blues | |
| B4 | A Pagan Place | |