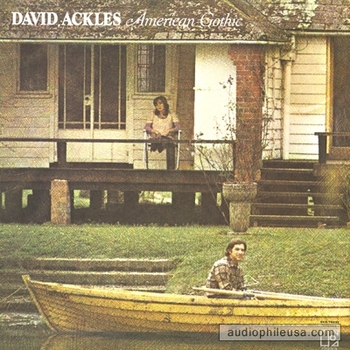 Ackles, David
Beautiful 1972 White Label Promo. Produced By Bernie Taupin. Released in 1972, it is a haunting, introspective work that explores the darker aspects of the American psyche. Ackles' voice is raw and emotive, and his lyrics are both poetic and deeply personal. The instrumentation is spare but effective, with piano and acoustic guitar providing the backbone of the album's sound.
The standout tracks on American Gothic are "One Night Stand" and "Montana Song." The former is a mournful ballad that speaks to the toll that life can take on a person's soul, while the latter is an epic tale of a man's journey through the American West. Both songs are masterpieces of storytelling, and demonstrate Ackles' ability to evoke a sense of time and place through his music.
Overall, American Gothic is a powerful and affecting work that deserves to be rediscovered by a new generation of music fans. It is a testament to Ackles' talent as a songwriter and performer, and a reminder that great art can transcend its time and place.
Condition:


Vinyl:

Near Mint (NM or M-)

Sleeve:

Near Mint (NM or M-)
Track List
| | | |
| --- | --- | --- |
| A1 | American Gothic | 3:19 |
| A2 | Love's Enough | 3:15 |
| A3 | Ballad Of The Ship Of State | 4:16 |
| A4 | One Night Stand | 2:47 |
| A5 | Oh, California! | 2:37 |
| A6 | Another Friday Night | 4:28 |
| B1 | Family Band | 2:35 |
| B2 | Midnight Carousel | 3:40 |
| B3 | Waiting For The Moving Van | 3:35 |
| B4 | Blues For Billy Whitecloud | 2:36 |
| B5 | Montana Song | 10:05 |