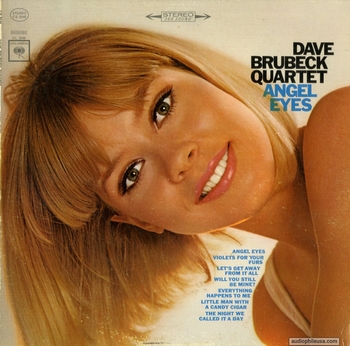 Dave Brubeck Quartet
1965 360 Stereo Original. Features Paul Desmond. Produced By Teo Macero. "Angel Eyes" is a jazz album by the Dave Brubeck Quartet, released in 1991. The album features recordings made by the quartet between 1954 and 1960, with the majority of the tracks recorded in the late 1950s.
The Dave Brubeck Quartet was formed in 1951 and became one of the most successful and innovative jazz groups of the 1950s and 1960s. The quartet was led by pianist and composer Dave Brubeck, who was known for his use of complex time signatures and his integration of elements of classical music into his jazz compositions.
The recordings on the album were made during a period of experimentation and innovation in jazz, and the Dave Brubeck Quartet was at the forefront of this movement. The quartet's unique sound and approach to jazz music helped to popularize the genre and influence generations of musicians to come.
Overall, "Angel Eyes" is a testament to the incredible talent and creativity of the Dave Brubeck Quartet and a must-have for any jazz fan.
Condition:


Vinyl:

Near Mint (NM or M-)

Sleeve:

Very Good Plus (VG+)
Track List
| | | |
| --- | --- | --- |
| A1 | Let's Get Away From It All | 3:57 |
| A2 | Violets For Your Furs | 5:49 |
| A3 | Angel Eyes | 7:22 |
| B1 | Will You Still Be Mine? | 5:20 |
| B2 | Everything Happens To Me | 5:45 |
| B3 | Little Man With A Candy Cigar | 3:32 |
| B4 | The Night We Called It A Day | 6:11 |