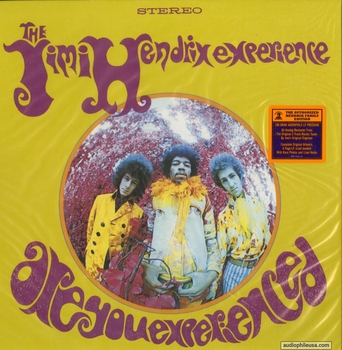 Jimi Hendrix Experience
Sealed 2010 LE #2535, 180gm Analog remaster by Eddie Kramer. Originally pressed in 1967 this Album se the world on its ears. Featuring a collection of electrifying rock anthems and soulful ballads, "Are You Experienced" showcases the incredible talents of Jimi Hendrix, one of the most celebrated guitarists of all time. From the opening track "Purple Haze" to the iconic "Hey Joe" and the soulful "The Wind Cries Mary," this album is a masterful display of Hendrix's innovative sound and style.
The album is an invitation to explore the boundaries of rock and blues and to embrace the limitless possibilities of music. Whether you're a longtime fan of Jimi Hendrix or a newcomer to his sound, this album is an essential addition to any music collection.
Track List
| | | |
| --- | --- | --- |
| A1 | Purple Haze | |
| A2 | Manic Depression | |
| A3 | Hey Joe | |
| A4 | Love Or Confusion | |
| A5 | May This Be Love | |
| A6 | I Don't Live Today | |
| B1 | The Wind Cries Mary | |
| B2 | Fire | |
| B3 | 3rd Stone From The Sun | |
| B4 | Foxey Lady | |
| B5 | Are You Experienced? | |