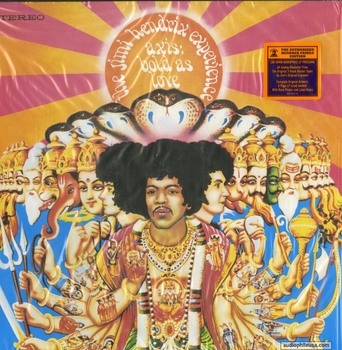 Jimi Hendrix Experience
Sealed 2010 (LE #2706) 180gm Analog Remaster From Eddie Kramer. Includes 8 page booklet and rare photos. This iconic album, released in 1967, showcases Hendrix's unparalleled talent as a guitarist and songwriter. From the psychedelic riffs of "Spanish Castle Magic" to the soulful ballad "Little Wing", every track on "Axis: Bold As Love" is a masterpiece in its own right. One of the standout tracks on the album is "If 6 Was 9", which features Hendrix's signature guitar sound paired with thought-provoking lyrics about individuality and nonconformity. "Castles Made of Sand" is another gem on the album, showcasing Hendrix's ability to blend different genres and create a sound that is uniquely his own.
But "Axis: Bold As Love" isn't just about Hendrix's virtuosity as a musician. The album also features intricate arrangements and production that elevate the songs to another level. The use of stereo panning and layering of instruments creates a sonic landscape that will leave you mesmerized.
Track List
| | | |
| --- | --- | --- |
| A1 | EXP | 1:55 |
| A2 | Up From The Skies | 2:55 |
| A3 | Spanish Castle Magic | 3:00 |
| A4 | Wait Until Tomorrow | 3:00 |
| A5 | Ain't No Telling | 1:46 |
| A6 | Little Wing | 2:24 |
| A7 | If 6 Was 9 | 5:32 |
| B1 | You Got Me Floating | 2:45 |
| B2 | Castles Made Of Sand | 2:46 |
| B3 | She's So Fine | 2:37 |
| B4 | One Rainy Wish | 3:40 |
| B5 | Little Miss Lover | 2:20 |
| B6 | Bold As Love | 4:09 |