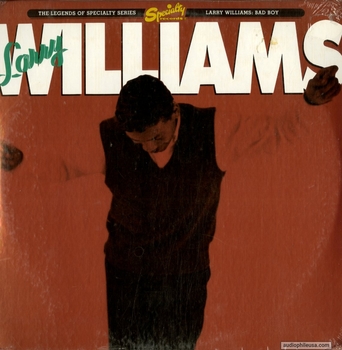 Williams, Larry
Sealed 1990 2LP in Gatefold. "Bad Boy" is filled with infectious rhythm and blues tracks that capture the spirit of the era. Williams' distinctive voice, coupled with his playful and rebellious lyrics, create an irresistible blend of rock and roll. The album includes standout hits like the title track "Bad Boy," "She Said Yeah," and "Dizzy Miss Lizzy," which would later become popularized by other artists.
What sets "Bad Boy" apart is Williams' ability to infuse his music with a raw and gritty energy. His lively piano playing and the tight arrangements of the accompanying band add to the album's infectious groove. Williams' influence on future rock icons, such as the Beatles and the Rolling Stones, cannot be overstated, as they would go on to cover several of his songs.
Despite his significant impact on the music scene, Williams' career was overshadowed by personal struggles and legal issues, preventing him from achieving the level of recognition he deserved. However, "Bad Boy" remains a testament to his talent and lasting impact on the rock and roll genre.
Condition:


Sleeve:

Near Mint (NM or M-)
Track List
| | | |
| --- | --- | --- |
| A1 | Bony Moronie | |
| A2 | She Said Yeah | |
| A3 | Hocus Pocus | |
| A4 | Lawdy Miss Clawdy | |
| A5 | Just Because | |
| B1 | Dizzy Miss Lizzy | |
| B2 | Rockin' Pneumonia | |
| B3 | High School Dance | |
| B4 | Heeby Jeebies | |
| B5 | Iko Iko aka Jockomo | |
| C1 | Short Fat Fannie | |
| C2 | Zing Zing | |
| C3 | Ting-A-Ling | |
| C4 | Make A Little Love | |
| C5 | Hootchy-Koo | |
| D1 | Slow Down | |
| D2 | You Bug Me, Baby | |
| D3 | Oh Baby | |
| D4 | Little School Girl | |
| D5 | Bad Boy | |