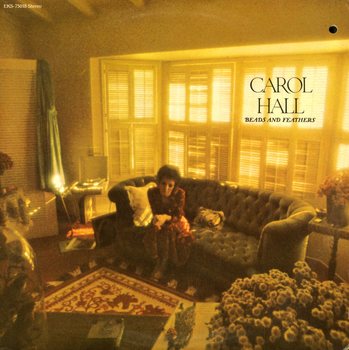 Hall, Carol
1972 Original Promo Copy. Maybe Over Shadowed By The Glut Of 70's Singer/Songwriters This Album Has Top Notch Memphis Sideman And Great Songs That Will Keep It On The Turntable For Awhile.
Throughout the album, Carol's voice is soothing and soulful, weaving intricate tales of love, loss, and redemption. The instrumentation is equally mesmerizing, with a mix of acoustic guitars, strings, and percussion that create a rich, textured sound.
While there are standout tracks like "Beads and Feathers," "I Am a Woman," and "I Am Your Child," the album is best enjoyed as a whole. Each track flows seamlessly into the next, creating a cohesive listening experience that is both relaxing and thought-provoking.
Overall, "Beads And Feathers" is a hidden gem that deserves to be discovered by a wider audience. It's a heartfelt, beautiful album that will transport you to another world and leave you feeling inspired and uplifted."
Condition:


Vinyl:

Near Mint (NM or M-)

Sleeve:

Near Mint (NM or M-)
Track List
| | | |
| --- | --- | --- |
| A1 | Carnival Man | 3:57 |
| A2 | Sandy | 2:59 |
| A3 | Thank You Babe | 3:01 |
| A4 | Hello Old Friend | 3:04 |
| A5 | Uncle Malcolm | 4:45 |
| B1 | Sunday Lady | 3:09 |
| B2 | Nana | 2:52 |
| B3 | My House | 3:45 |
| B4 | Charlie's Waiting For The Snow | 2:41 |
| B5 | I Never Thought Anything This Good Could Happen To Me | 4:08 |