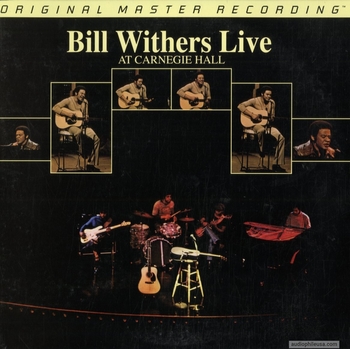 Withers, Bill
Bill Withers Live At Carnegie Hall
2014 2LP Gatefold, 180gm, Non-Numbered Promo In Gatefold. Mastered On Mobile Fidelity's World-Renowned Mastering System And Pressed At RTI. Critically Acclaimed In Hi-Fi News. "Bill Withers Live At Carnegie Hall" is a live album by American singer-songwriter Bill Withers, released on November 30, 1972. The album was recorded on October 6, 1972, at the famous Carnegie Hall in New York City.
Withers had been a struggling musician for several years before he was signed to Sussex Records in 1971. His debut album, "Just As I Am," included the hit single "Ain't No Sunshine," which helped establish him as a rising star in the music industry. Withers followed up his debut album with "Still Bill," which included the hit singles "Use Me" and "Lean On Me."
Withers' performance at Carnegie Hall in 1972 showcased his soulful voice and powerful songwriting abilities. The album includes live versions of many of his most popular songs, including "Ain't No Sunshine," "Use Me," and "Lean On Me," as well as lesser-known tracks like "Hope She'll Be Happier" and "Harlem."
"Bill Withers Live At Carnegie Hall" was a critical and commercial success, earning Withers a Grammy Award for Best R&B Song for "Ain't No Sunshine" and helping solidify his place in the pantheon of great soul music artists. The album is now considered a classic of the genre and a must-have for fans of Withers and soul music in general.
Condition:


Vinyl:

Near Mint (NM or M-)

Sleeve:

Near Mint (NM or M-)
Track List
| | | |
| --- | --- | --- |
| A1 | Use Me | 8:30 |
| A2 | Friend Of Mine | 4:26 |
| A3 | Ain't No Sunshine | 2:25 |
| A4 | Grandma's Hands (With Rap) | 5:08 |
| B1 | World Keeps Going Around | 5:08 |
| B2 | Let Me In Your Life (With Rap) | 4:35 |
| B3 | Better Off Dead | 3:36 |
| B4 | For My Friend | 2:58 |
| C1 | I Can't Write Left Handed | 6:52 |
| C2 | Lean On Me | 5:47 |
| C3 | Lonely Town Lonely Street | 3:54 |
| C4 | Hope She'll Be Happier | 4:23 |
| D1 | Let Us Love | 5:21 |
| D2 | Harlem/Cold Baloney | 13:07 |