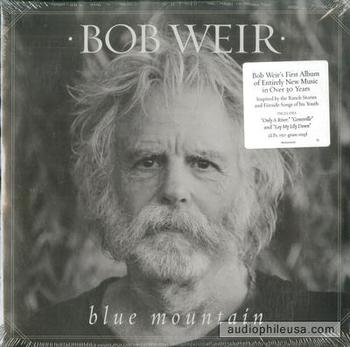 Weir, Bob
Sealed 2016 Original. 2LP Gatefold, 150gm. "Blue Mountain" Is A Solo Album By The American Musician Bob Weir, Who Is Best Known As A Founding Member Of The Grateful Dead. The Album Was Released On September 30, 2016, On The Columbia/Legacy Label.
The Idea For The Album Came From A Chance Meeting Between Weir And The Producer Josh Kaufman, Who Had Previously Worked With Artists Such As The National And Josh Ritter. Kaufman Suggested That Weir Record An Album That Reflected His Love Of The American West And His Experiences Living In Wyoming. Weir Agreed, And The Two Began Working On The Album In Early 2016.
The Songs On The Album Were Inspired By Weir's Experiences Living In The West, And His Love Of The Outdoors. They Are Mostly Acoustic, With A Focus On Storytelling And Melody. The Album Features Guest Appearances From Musicians Such As Josh Ritter, Aaron Dessner Of The National, And Bryce Dessner Of The National.
"Blue Mountain" Received Positive Reviews From Critics, Who Praised Weir's Songwriting And His Ability To Convey A Sense Of Place And Atmosphere. The Album Also Debuted At Number 13 On The Billboard 200 Chart, Making It Weir's Highest-Charting Solo Album To Date.
Track List
| | | |
| --- | --- | --- |
| A1 | Only A River | 5:31 |
| A2 | Cottonwood Lullaby | 3:45 |
| A3 | Gonesville | 4:11 |
| B1 | Lay My Lily Down | 4:02 |
| B2 | Gallop On The Run | 4:43 |
| B3 | Whatever Happened To Rose | 4:23 |
| C1 | Ghost Towns | 4:56 |
| C2 | Darkest Hour | 3:26 |
| C3 | Ki-Yi Bossie | 4:47 |
| D1 | Storm Country | 4:34 |
| D2 | Blue Mountain | 3:55 |
| D3 | One More River To Cross | 4:06 |