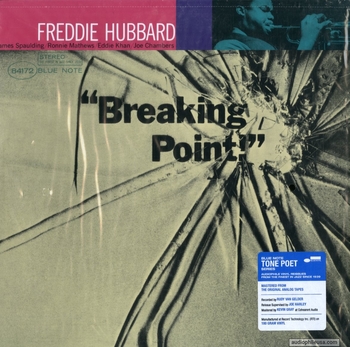 Freddie Hubbard
Sealed 2022 180gm Analog Mastered Tone Poet Series In Gatefold. "Breaking Point" is a jazz album by the American trumpeter Freddie Hubbard, released in 1964 by Blue Note Records. It was recorded in November 1964 and features Hubbard on trumpet, James Spaulding on alto saxophone and flute, Ronnie Mathews on piano, Eddie Khan on bass, and Joe Chambers on drums. The album was recorded during a particularly prolific period for him. It followed his successful albums "Ready for Freddie" and "Hub-Tones" and preceded his masterpiece "The Night of the Cookers". "Breaking Point" is considered one of Hubbard's best albums and is notable for its hard-bop sound and the virtuosic playing of the band.
The title track "Breaking Point" is a highlight of the album and features Hubbard's powerful and expressive trumpet playing. Other tracks on the album include "Far Away", "Mirrors", and "Blue Frenzy", which feature intricate and inventive solos from Hubbard and Spaulding.
"Breaking Point" was well-received by critics and helped establish Hubbard as one of the leading trumpeters of the 1960s. It remains a popular and influential album in the jazz canon.