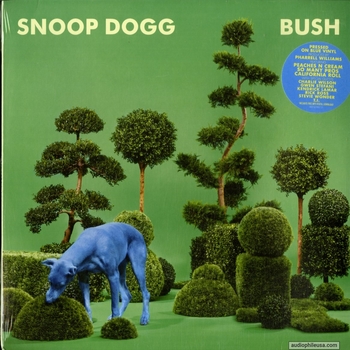 Snoop Dogg
Sealed 2015 Blue Vinyl. "Bush" is the thirteenth studio album by American rapper Snoop Dogg, released in 2015. This album marks a significant shift in Snoop Dogg's musical direction and showcases his collaboration with renowned producer Pharrell Williams.
The history of "Bush" can be traced back to Snoop Dogg and Pharrell Williams' previous collaborations, most notably on Snoop Dogg's iconic debut album "Doggystyle" in 1993. The two artists reconnected years later and decided to embark on a full-length project together, aiming to create a sound that pays homage to the funk and R&B influences of the 1970s.
The album's production was heavily influenced by the musical style of the West Coast G-funk era, but with a modern twist. Pharrell Williams brought his signature sound and production skills to the project, infusing it with catchy melodies, lush instrumentation, and soulful grooves.
"Bush" features guest appearances from prominent artists such as Stevie Wonder, Charlie Wilson, Gwen Stefani, and Kendrick Lamar, further adding to the album's star power and musical diversity. The collaboration with these artists showcases Snoop Dogg's ability to bridge generations and genres, creating a cohesive and vibrant album that appeals to a wide range of listeners.
Track List
| | | |
| --- | --- | --- |
| A1 | California Roll | 4:12 |
| A2 | This City | 3:33 |
| A3 | R U A Freak | 3:45 |
| A4 | Awake | 3:43 |
| A5 | So Many Pros | 4:06 |
| B1 | Peaches N Cream | 4:43 |
| B2 | Edibles | 3:21 |
| B3 | I Knew That | 3:59 |
| B4 | Run Away | 5:13 |
| B5 | I'm Ya Dogg | 4:38 |