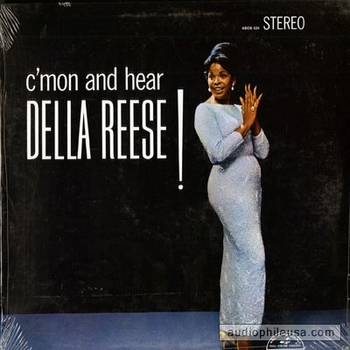 Reese, Della
Sealed 1965 Stereo Original. Della Reese's album "C'mon And Hear!" is a powerful showcase of the singer's soulful voice and dynamic range. Throughout the record, Reese effortlessly transitions between upbeat, swing-inspired numbers like "After Loving You" and more introspective ballads like "It's Magic".
One of the standout tracks on the album is Reese's rendition of "I Only Want A Buddy Not A Sweetheart" which starts with a sultry spoken intro before launching into a lively arrangement featuring brass and percussion. Reese's vocals are bold and confident, perfectly capturing the seductive appeal of the song's lyrics.
Overall, "C'mon And Hear!" is a fantastic representation of Reese's talent and versatility as a performer. Whether she's belting out big band classics or crooning tender love songs, Reese's voice commands attention and leaves a lasting impression. This album is a must-listen for fans of jazz and soul music alike.
Track List
| | | |
| --- | --- | --- |
| A1 | After Loving You | 2:37 |
| A2 | Home ( When Shadows Fall ) | 3:07 |
| A3 | My Devotion | 2:29 |
| A4 | It's Magic | 2:22 |
| A5 | A Wilted Flower | 2:50 |
| A6 | A Hundred Years From Today | 3:28 |
| B1 | Her Little Heart Went To Loveland (And His Little Heart Stayed Home) | 2:52 |
| B2 | I Only Want A Buddy Not A Sweetheart | 2:17 |
| B3 | I Need You So | 2:55 |
| B4 | A Lover's Prayer | 2:17 |
| B5 | Blues For The Weepers | 3:31 |
| B6 | How Do You Keep From Cryin' | 2:45 |