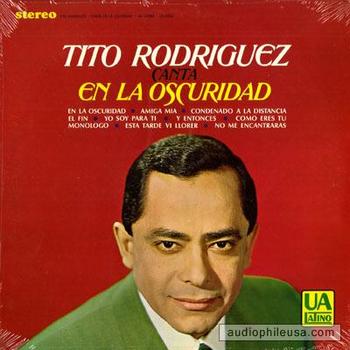 Rodriguez, Tito
Sealed, Rare 1968 Stereo Import Original. Pristine Copy. Tito Rodriguez was a prominent figure in the Latin music scene during the 1950s and 1960s. He was known for his smooth voice and his ability to blend various genres of music, including bolero, mambo, and salsa.
"Canta En La Oscuridad" is considered one of his most successful albums. It includes a mix of romantic ballads and uptempo dance numbers, all performed with Rodriguez's signature style and charm.
The album was recorded in New York City with a team of top-notch musicians, including pianist Charlie Palmieri and percussionist Ray Barretto. It was produced by Al Santiago, a well-known producer in the Latin music industry.
Despite its success, "Canta En La Oscuridad" was one of Rodriguez's final albums. He died in 1973 at the age of 50, leaving behind a legacy as one of the greatest singers in the history of Latin music.
Track List
| | | |
| --- | --- | --- |
| A1 | En La Oscuridad | 3:52 |
| A2 | Amiga Mia | 2:47 |
| A3 | Condenado A La Distancia | 3:07 |
| A4 | Yo Soy Para Ti | 2:38 |
| A5 | Y Entonces | 3:10 |
| B1 | El Fin | 3:04 |
| B2 | Monologo | 3:10 |
| B3 | Esta Tarde Vi Llorer | 2:45 |
| B4 | No Me Encontraras | 2:40 |
| B5 | Como Eres Tu | 2:40 |