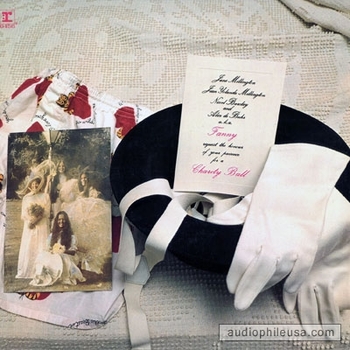 Fanny
1971 Stereo Original. Appears Glossy. "Charity Ball" is the 2nd studio album by the all-female rock band "Fanny." It was released in 1971 under the Reprise Records label.
"Fanny" was formed in 1969, and they quickly gained attention for their unique sound, which blended rock, soul, and blues. The band consisted of Jean Millington on bass, June Millington on guitar, Alice de Buhr on drums, and Nickey Barclay on keyboards. At the time of the album's release, Fanny was considered a groundbreaking all-female rock band.
"Charity Ball" was produced by Richard Perry. The album featured ten tracks, including the singles "Charity Ball" and "Place in the Country." The album was a commercial success, reaching #40 on the Billboard 200 chart. Such artists as The Bangles and The Runaways have cited Fanny as a key influence.
In recent years, Fanny has received renewed attention for their contributions to rock music and their groundbreaking role as an all-female rock band. They have been inducted into the Women's Hall of Fame and received other honors for their musical legacy.
Condition:


Vinyl:

Very Good Plus (VG+)

Sleeve:

Very Good Plus (VG+)
Track List
| | | |
| --- | --- | --- |
| A1 | Charity Ball | 2:29 |
| A2 | What Kind Of Lover | 2:55 |
| A3 | Cat Fever | 3:22 |
| A4 | A Person Like You | 2:57 |
| A5 | Special Care | 4:24 |
| A6 | What's Wrong With Me | 1:43 |
| B1 | Soul Child | 3:48 |
| B2 | You're The One | 4:06 |
| B3 | Thinking Of You | 3:23 |
| B4 | Place In The Country | 4:03 |
| B5 | A Little While Later | 5:42 |