Brahms / Schumann / Quartetto Italiano

Complete String Quartets
Rare & Collectible Vinyl Records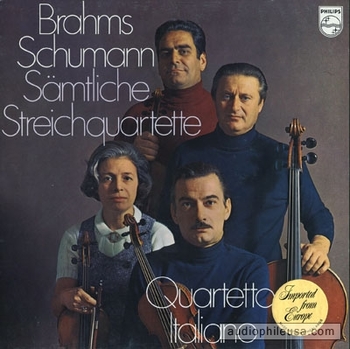 Brahms / Schumann / Quartetto Italiano
1973 3LP Cloth-Bound Box Set Original With Booklet Featuring Quartetto Italiano.
The "Complete String Quartets" album by Brahms / Schumann / Quartetto Italiano was first released in 1973 by the Philips label. The Quartetto Italiano was formed in 1945 and consisted of Paolo Borciani, Elisa Pegreffi, Piero Farulli, and Franco Rossi. The Quartetto Italiano was known for its interpretation of the works of the great quartet composers, including Brahms and Schumann.
The Quartetto Italiano's performances on this album are regarded as some of the finest recordings of these works. The group's approach to the music emphasizes clarity and balance, while also emphasizing the emotional content of the music.
Track List
| | | |
| --- | --- | --- |
| | Schumann - String Quartet No. 1 In A Minor, Op.41, No. 1 | |
| | Schumann - String Quartet No. 3 In A, Op. 41, No. 3 | |
| | Brahms - String Quartet No. 1 In C Minor, Op. 51, No. 1 | |
| | Brahms - String Quartet No. 2 In A Minor, Op. 51, No. 2 | |
| | Schumann - Quartet In F, Op. 41 No. 2 | |
| | Brahms - Quartet In B Flat, Op. 67 | |
| A1 | Introduzione (Andante Expressivo- Allegro) | 9:40 |
| A2 | Scherzo (Presto) - Intermezzo | 3:40 |
| A3 | Adagio | 5:54 |
| A4 | Presto- Moderato- Tempo I | 6:16 |
| B1 | Andante Expressivo- Allegro Molto Moderato | 8:26 |
| B2 | Assai Agitato - Um Poco Adagio - Tempo Risoluto | 7:05 |
| B3 | Adagio Molto | 9:45 |
| B4 | Allegro Molto Vivace | 7:09 |
| C1 | Allegro | 11:20 |
| C2 | Romanze. Poco Adagio | 7:28 |
| C3 | Allegretto Molto Moderato E Comodo - Un Poco Più Animato | 8:37 |
| C4 | Allegro | 6:08 |
| D1 | Allegro Non Troppo | 9:12 |
| D2 | Andante Moderato | 10:17 |
| D3 | Quasi Menuetto, Moderato - Allegretto Vivace | 5:13 |
| D4 | Finale. Allegro Non Assai - Più Vivace | 7:13 |
| E1 | Allegro Vivace | 5:45 |
| E2 | Andante Quase Variazione | 7:45 |
| E3 | Scherzo (Presto) | 3:02 |
| E4 | Allegro Molto Vivace - Più Mosso | 4:03 |
| E5 | Vivace | 9:57 |
| F1 | Andante | 8:40 |
| F2 | Agitato (Allegretto Non Troppo) | 8:45 |
| F3 | Poco Allegretto Com Variazione - Doppio Movimento | 10:33 |