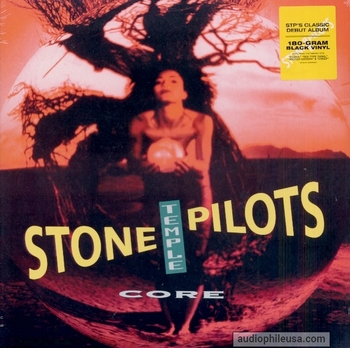 Stone Temple Pilots
Sealed 2020 180gm Remastered Reissue Of Their Classic Debut Album. EU Import. "Core" Is The Debut Studio Album By American Rock Band Stone Temple Pilots, Released On September 29, 1992, Through Atlantic Records. The Album Was Recorded At Rumbo Recorders In Los Angeles And Produced By Brendan O'brien.
"Core" Was Met With Mixed Reviews Upon Its Initial Release, But It Quickly Gained Popularity And Became A Commercial Success, Reaching Number Three On The Us Billboard 200 Chart And Eventually Selling Over 8 Million Copies In The United States Alone.
The Album Includes Popular Singles Such As "Plush", "Sex Type Thing", And "Creep", Which Helped The Band Gain Mainstream Success And A Dedicated Fan Base. To This Day, It Remains A Seminal Album In The History Of Alternative Rock And Is Considered A Significant Contribution To The Grunge Movement Of The 1990s.
Condition:


Sleeve:

Near Mint (NM or M-)
Track List
| | | |
| --- | --- | --- |
| A1 | Dead & Bloated | 5:10 |
| A2 | Sex Type Thing | 3:38 |
| A3 | Wicked Garden | 4:05 |
| A4 | No Memory | 1:20 |
| A5 | Sin | 6:05 |
| A6 | Naked Sunday | 3:49 |
| A7 | Creep | 5:33 |
| B1 | Piece Of Pie | 5:24 |
| B2 | Plush | 5:14 |
| B3 | Wet My Bed | 1:36 |
| B4 | Crackerman | 3:14 |
| B5 | Where The River Goes | 8:25 |