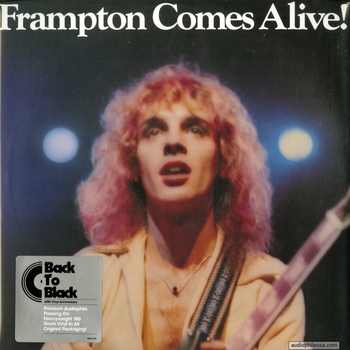 Frampton, Peter
Sealed 2008 Out Of Print 2LP Gatefold Reissue Pressed On 180gm Audiophile Vinyl. Came In Resealable Outer Sleeve As The "Seal". "Frampton Comes Alive!" is a live album by British musician Peter Frampton, released on January 6, 1976. The album was recorded at the Winterland Ballroom in San Francisco, California, and was released by A&M Records. It became one of the best-selling live albums of all time, and cemented Frampton's status as a rock superstar.
Frampton had been a part of the British rock scene since the late 1960s, playing in bands like The Herd and Humble Pie. He released his first solo album, "Wind of Change," in 1972, but it was his 1975 album "Frampton" that would set the stage for his massive success with "Frampton Comes Alive!"
"Frampton Comes Alive!" was produced by Peter Frampton himself, along with Chris Kimsey and Bob Mayo. The album features hit songs like "Show Me the Way," "Baby, I Love Your Way," and "Do You Feel Like We Do."
The album was a massive success, reaching No. 1 on the Billboard 200 chart and staying on the chart for 97 weeks. It was certified 8x Platinum by the RIAA, and its success led to Frampton becoming a major touring act. The album's popularity was due in part to its use of the then-new Talk Box guitar effect, which gave Frampton's guitar a distinctive, vocal-like sound.
Catalog ID:

750 216 505-1

Condition:


Vinyl:

Near Mint (NM or M-)

Sleeve:

Near Mint (NM or M-)
Track List
| | | |
| --- | --- | --- |
| A1 | Introduction | |
| A2 | Something's Happening | |
| A3 | Doobie Wah | |
| A4 | Show Me The Way | |
| A5 | It's A Plain Shame | |
| B1 | All I Want To Be (Is By Your Side) | |
| B2 | Wind Of Change | |
| B3 | Baby, I Love Your Way | |
| B4 | I Wanna Go To The Sun | |
| C1 | Penny For Your Thoughts | |
| C2 | (I'll Give You) Money | |
| C3 | Shine On | |
| C4 | Jumping Jack Flash | |
| D1 | Lines On My Face | |
| D2 | Do You Feel Like We Do | |