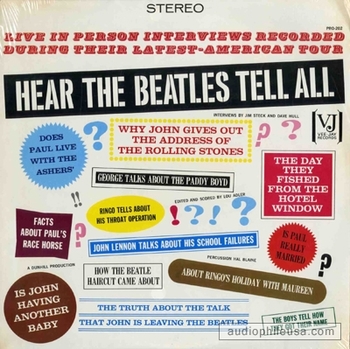 Beatles
Hear The Beatles Tell All
Sealed 1979 Stereo (Label Variation Unknown - Title Is Printed On Spine). At the height of Beatlemania this album was released featuring interviews with the Beatles, recorded during their 1964 American tour.
The interviews were conducted by journalist Dave Hull, who followed the Beatles on their tour and recorded their conversations. The album includes a mix of serious discussions about the band's music and career, as well as lighthearted banter and jokes.
The album was originally released on the Vee-Jay label, a Chicago-based record company that had obtained the rights to release early Beatles recordings in the United States. However, the album was quickly pulled from shelves after the Beatles' management threatened legal action against Vee-Jay for releasing unauthorized material.
Despite its brief and controversial release, "Hear The Beatles Tell All" has become a popular collector's item among Beatles fans, offering a rare glimpse into the personalities of the band members during their early years.
Track List
| | | |
| --- | --- | --- |
| A | Jim Steck Interviews John Lennon | 13:04 |
| B | Dave Hull Interviews John, Paul, George, Ringo | 13:14 |