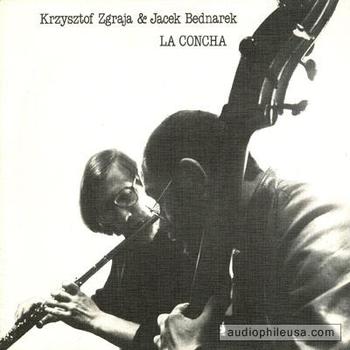 Krzysztof Zgraja & Jacek Dednarek
Rare 1981 Original Housed In A Textured Cover. Krzysztof Zgraja, Flute, Recorded, Piano, Guitar; Jacek Dednarek, Bass. Tracks Are: "Lus Blues," "Old Jack Song," "Afrosphera," "La Concha," "Walking Colour," "Folk-Music Nr. 5 Kurpia," "Flute Reflections." Super Disc Quality Sound On This Outstanding Record.
Sold Out
Apologies, the one-of-a-kind album you wanted is sold, but please explore similar records from the largest online collection for more unique finds!
Track List
| | | |
| --- | --- | --- |
| A1 | Lus Blues | 2:55 |
| A2 | Old Jack Song | 4:40 |
| A3 | Afrosphera | 5:45 |
| A4 | La Concha | 8:00 |
| B1 | Walking Colour | 5:40 |
| B2 | Folk-Music Nr. 5 "Kurpia" | 6:00 |
| B3 | Flute Reflections | 7:00 |