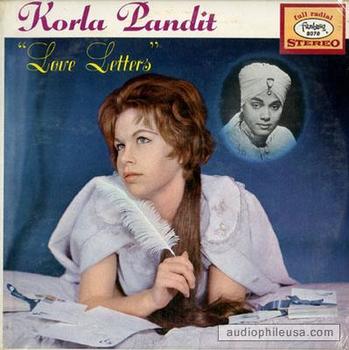 Pandit, Korla
1961 Full Radial Stereo, Blue Virgin Vinyl Original. "Love Letters" is an album by Pandit Korla, which was released in 1957. Pandit Korla was an American musician of Indian origin who rose to fame in the early 20th century as an organist and pianist. He is also known for being one of the first musicians to have his own television show, "Korla Pandit's Adventures in Music," which aired in the 1950s.
The album "Love Letters" was released on the Fantasy Records label and features Pandit Korla playing the Hammond organ. The album includes a mix of original compositions and covers of popular songs, including "Love Letters," "Over the Rainbow," and "The Man I Love."
Although the album did not achieve commercial success at the time of its release, it has since become a cult classic among fans of exotica music. Pandit Korla's unique blend of Indian classical music with Western pop and jazz influences has earned him a place in the history of American music.
Type:

Colored Vinyl - Used

Condition:


Vinyl:

Near Mint (NM or M-)

Sleeve:

Near Mint (NM or M-)
Track List
| | | |
| --- | --- | --- |
| A1 | Love Letters | 2:45 |
| A2 | I'll Always Be In Love With You | 2:35 |
| A3 | Take Me In Your Arms | 2:32 |
| A4 | You Belong To Me | 2:30 |
| A5 | The Very Thought Of You | 3:13 |
| A6 | These Foolish Things | 2:28 |
| B1 | Trust In Me | 2:55 |
| B2 | I Was Wrong | 2:18 |
| B3 | It's The Talk Of The Town | 2:35 |
| B4 | Where Or When | 3:15 |
| B5 | I Want You For My Own | 2:55 |
| B6 | There's A Small Hotel | 2:09 |