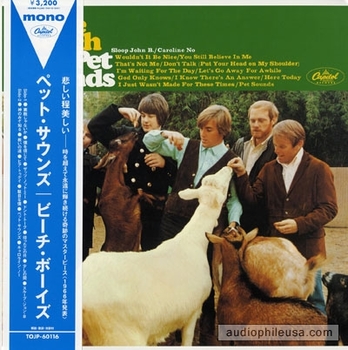 Beach Boys
2004 Japanese Mono Reissue With Obi Pressed On 180gm Pure Red Virgin Vinyl. Produced and arranged by Brian Wilson, who composed most of its music, with lyrics by Tony Asher. The album is considered one of the greatest and most influential albums in the history of popular music, and is often cited as a peak of the psychedelic era.
The album was inspired by Wilson's desire to create a "teenage symphony to God", a concept that emerged from his increasing dissatisfaction with the limitations of the Beach Boys' earlier surf and car songs. He spent months working on the album, recording instrumental tracks with the Wrecking Crew, a group of Los Angeles session musicians, and layering complex vocal harmonies with the Beach Boys.
Wilson also experimented with tape manipulation and sound effects, creating a rich and textured sound that was unlike anything else in popular music at the time. He used unconventional arrangements and instrumentation, including the use of orchestral instruments like the French horn, harpsichord, and theremin.
Although the album was initially met with mixed reviews and modest commercial success, it has since been recognized as a masterpiece and a major influence on generations of musicians. In 1997, it was ranked second on Rolling Stone's list of the "500 Greatest Albums of All Time", and in 2018, it was inducted into the National Recording Registry by the Library of Congress.
Type:

Colored Vinyl - Used

Condition:


Vinyl:

Very Good Plus (VG+)

Sleeve:

Near Mint (NM or M-)
Track List
| | | |
| --- | --- | --- |
| A1 | Wouldn't It Be Nice | 2:22 |
| A2 | You Still Believe In Me | 2:29 |
| A3 | That's Not Me | 2:27 |
| A4 | Don't Talk (Put Your Head On My Shoulder) | 2:50 |
| A5 | I'm Waiting For The Day | |
| A6 | Let's Go Away For Awhile | 3:03 |
| A7 | Sloop John B | 2:18 |
| B1 | God Only Knows | 2:49 |
| B2 | I Know There's An Answer | 3:08 |
| B3 | Here Today | 2:52 |
| B4 | I Just Wasn't Made For These Times | 3:11 |
| B5 | Pet Sounds | 2:20 |
| B6 | Caroline No | 2:52 |