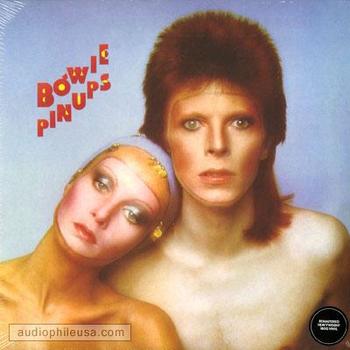 Bowie, David
Sealed 2016 Remastered 180gm Reissue. "Pinups" Is The Seventh Studio Album By David Bowie, Released In October 1973. The Album Is A Collection Of Cover Versions Of Songs By Various Artists, Including The Who, The Kinks, The Yardbirds, And Pink Floyd.
The Idea For The Album Came About During Bowie's "Ziggy Stardust" Tour In 1972, When He Would Perform Some Of These Songs As Encores. Bowie And His Backing Band, The Spiders From Mars, Recorded The Album Quickly In Just A Few Days, And It Was Produced By Ken Scott.
The Album's Cover, Featuring Bowie Wearing A Brightly Colored Harlequin Jumpsuit And Makeup, Was Designed By Bowie And Fashion Photographer Mick Rock. The Artwork Was Inspired By The Style Of French Artist Guy Peellaert.
Despite Receiving Mixed Reviews From Critics At The Time Of Its Release, "Pinups" Has Since Become A Cult Favorite Among Bowie Fans. The Album Reached No. 1 In The Uk Charts And Spawned Two Singles: "Sorrow" And "Rebel Rebel".
Overall, "Pinups" Is Seen As An Important Part Of Bowie's Discography, Marking A Transitional Period Between His Early Glam Rock Sound And The Soulful Sound Of His Later Albums.
Condition:


Vinyl:

Near Mint (NM or M-)

Sleeve:

Near Mint (NM or M-)
Track List
| | | |
| --- | --- | --- |
| A1 | Rosalyn | |
| A2 | Here Comes The Night | |
| A3 | I Wish You Would | |
| A4 | See Emily Play | |
| A5 | Everything's All Right | |
| A6 | I Can't Explain | |
| B1 | Friday On My Mind | |
| B2 | Sorrow | |
| B3 | Don't Bring Me Down | |
| B4 | Shapes Of Things | |
| B5 | Anyway, Anyhow, Anywhere | |
| B6 | Where Have All The Good Times Gone? | |