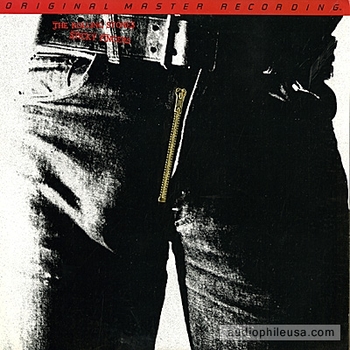 Rolling Stones
1981 Half-Speed Mastered Rarity Housed In A Deluxe Jacket With Gold Foil Zipper. Pressed In Japan By JVC. Glossy Condition. Released in 1971, "Sticky Fingers" solidified The Rolling Stones' status as one of the greatest rock bands of all time. With its raw energy, bluesy undertones, and gritty rock sound, the album remains timeless. Musically, "Sticky Fingers" is a masterclass in rock and roll. The album opens with the iconic riff of "Brown Sugar," a high-energy track that sets the tone for the entire record. The guitar work of Keith Richards and Mick Taylor, weaving together memorable riffs and blistering solos, along with drummer Charlie Watts and bassist Bill Wyman, serves as the backbone of this landmark album.
From the bluesy swagger of "Bitch" to the country-tinged balladry of "Wild Horses," The Rolling Stones demonstrate their versatility and ability to seamlessly blend genres. The soulful horns on tracks like "Can't You Hear Me Knocking" add depth and richness to the sound, while Mick Jagger's distinctive vocals and charismatic delivery inject each song with attitude and emotion. Lyrically, "Sticky Fingers" explores themes of desire, decadence, and the darker side of life. The lyrics delve into topics such as sex, drugs, and the complexities of relationships, reflecting the gritty realism and rebellious spirit that defined the era.
With their provocative and evocative lyrics, The Rolling Stones captured the essence of a generation seeking liberation and self-expression. "Sticky Fingers" stands as a testament to their enduring influence, showcasing their ability to push the boundaries of rock and roll. The album's impact transcends time, cementing its place as an essential piece of rock music history.
Sold Out
Apologies, the one-of-a-kind album you wanted is sold, but please explore similar records from the largest online collection for more unique finds!
Track List
| | | |
| --- | --- | --- |
| A1 | Brown Sugar | 3:50 |
| A2 | Sway | 3:45 |
| A3 | Wild Horses | 5:41 |
| A4 | Cant You Hear Me Knocking | 7:17 |
| A5 | You Gotta Move | 2:32 |
| B1 | Bitch | 3:12 |
| B2 | I Got The Blues | 4:00 |
| B3 | Sister Morphine | 5:34 |
| B4 | Dead Flowers | 4:05 |
| B5 | Moonlight Mile | 5:56 |