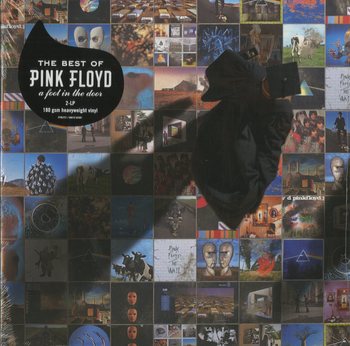 Pink Floyd
The Best Of Pink Floyd - A Foot In The Door
Sealed 2018 Remastered 2LP Gatefold, Pressed On 180gm Vinyl. Housed In Deluxe Gatefold Jacket, With custom Printed Inner Sleeves. "The Best Of Pink Floyd - A Foot In The Door" is a compilation album by the British rock band Pink Floyd. It was released on November 7, 2011, by EMI Records. The album includes tracks from Pink Floyd's entire career, from their debut album "The Piper at the Gates of Dawn" (1967) to "The Division Bell" (1994), as well as the non-album single "See Emily Play" (1967).
The compilation was conceived by Pink Floyd drummer Nick Mason, who said in a press release, "This album is a selection of the best-known Pink Floyd tracks, taken from across the band's career, and it's designed to introduce new fans to the music and appeal to existing fans as well."
"The Best Of Pink Floyd - A Foot In The Door" was met with mixed reviews from critics, with some praising the track selection and remastering, while others criticized the album for omitting important songs and not providing a comprehensive overview of the band's career.
Despite the criticism, the album was a commercial success, reaching No. 16 on the UK Albums Chart and No. 31 on the US Billboard 200. It has since been certified Gold in the UK.
Condition:


Sleeve:

Near Mint (NM or M-)
Track List
| | | |
| --- | --- | --- |
| A1 | Hey You | 4:41 |
| A2 | See Emily Play | 2:49 |
| A3 | The Happiest Days Of Our Lives | 1:33 |
| A4 | Another Brick In The Wall ,Part 2 | 3:49 |
| A5 | Have A Cigar | 5:09 |
| B1 | Wish You Were Here | 5:05 |
| B2 | Time / Breathe (In The Air) (Reprise) | 6:20 |
| B3 | The Great Gig In The Sky | 4:36 |
| B4 | Money | 6:34 |
| C1 | Comfortably Numb | 6:19 |
| C2 | High Hopes | 6:55 |
| C3 | Learning To Fly | 4:50 |
| D1 | The Fletcher Memorial Home | 4:11 |
| D2 | Shine On You Crazy Diamond Parts 1-5 (Edit) | 11:06 |
| D3 | Brain Damage | 3:47 |
| D4 | Eclipse | 1:54 |