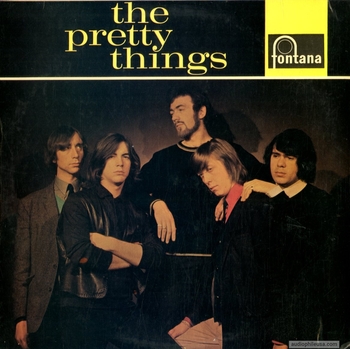 Pretty Things
1965 Original Mono Pressing In Laminated Gatefold. The Early Recordings From The Pretties Were Raw Garage Blues. Similar To The Early Rolling Stones. In Fact Dick Taylor Played Bass With The Stones From The Inception Before He Left To Go Back To School. The band was formed in London in 1963 and consisted of Dick Taylor, Phil May, Brian Pendleton, John Stax and Viv Prince. The band was known for their energetic live shows and their rebellious attitude towards the establishment.
The album features a mix of original songs and covers of classic blues and rock songs. It includes a cover of Bo Diddley's "Mama Keep Your Big Mouth Shut", which became a staple of the band's live shows.
The Pretty Things was well received by critics and helped to establish the band as one of the leading acts in the British R&B scene. The album has since been recognized as a classic of the genre and has influenced generations of musicians.
The Pretty Things continued to release albums throughout the 1960s and 1970s, but never achieved the commercial success of their contemporaries such as The Rolling Stones and The Beatles. The band disbanded in 2018 after a final tour, leaving behind a legacy of influential music.
Sold Out
Apologies, the one-of-a-kind album you wanted is sold, but please explore similar records from the largest online collection for more unique finds!
Condition:


Vinyl:

Near Mint (NM or M-)

Sleeve:

Very Good Plus (VG+)
Track List
| | | |
| --- | --- | --- |
| A1 | Road Runner | |
| A2 | Judgement Day | |
| A3 | 13 Chester Street | |
| A4 | Big City | |
| A5 | Unknown Blues | |
| A6 | Mama, Keep Your Big Mouth Shut | |
| B1 | Honey, I Need | |
| B2 | Oh Baby Doll | |
| B3 | She's Fine She's Mine | |
| B4 | Don't Lie To Me | |
| B5 | The Moon Is Rising | |
| B6 | Pretty Thing | |