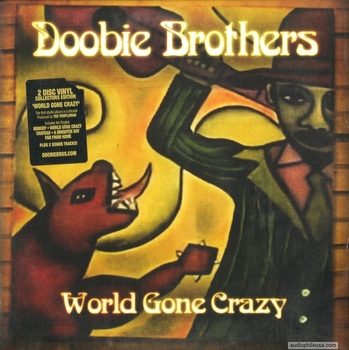 Doobie Brothers
2010 2LP In Gatefold. Includes Inner sleeves. "World Gone Crazy" is the thirteenth studio album and their first album of new material since "Sibling Rivalry" in 2000.
The Doobie Brothers were originally formed in 1970 in San Jose, California. The band gained popularity in the 1970s with hits such as "Listen to the Music," "Long Train Runnin'," and "China Grove." The band went through numerous lineup changes over the years, with founding members Tom Johnston and Patrick Simmons remaining as the primary songwriters and vocalists.
"World Gone Crazy" features original members Tom Johnston and Patrick Simmons, as well as longtime band members John McFee and Michael Hossack. The album was produced by Ted Templeman, who had produced many of the band's classic albums in the 1970s.
The album received positive reviews from critics and reached #39 on the Billboard 200 chart. The lead single, "Nobody," also received significant airplay on adult contemporary radio stations.
Overall, "World Gone Crazy" is seen as a return to form for The Doobie Brothers, with its blend of rock, pop, and country influences. The album showcases the band's trademark harmonies and guitar work, as well as their ability to craft catchy hooks and memorable choruses.
Sold Out
Apologies, the one-of-a-kind album you wanted is sold, but please explore similar records from the largest online collection for more unique finds!
Condition:


Vinyl:

Near Mint (NM or M-)

Sleeve:

Near Mint (NM or M-)
Track List
| | | |
| --- | --- | --- |
| A1 | A Brighter Day | |
| A2 | Chateau | |
| A3 | My Baby | |
| B1 | Don't Say Goodbye | |
| B2 | Law Dogs | |
| B3 | New York Dream | |
| C1 | Nobody | |
| C2 | World Gone Crazy | |
| C3 | Far From Home | |
| D1 | Young Man's Game | |
| D2 | I Know We Won | |
| D3 | Old Juarez | |
| D4 | Little Prayer | |