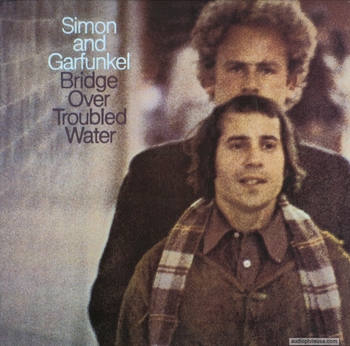 Simon & Garfunkel
Bridge Over Troubled Water
70's reissue still in shrink with inner sleeve. Simon & Garfunkel's "Bridge Over Troubled Water" is a timeless classic that showcases the duo's musical prowess and songwriting skills. The album's title track is a masterpiece that has stood the test of time, serving as a beacon of hope and comfort for generations. The harmonies between Simon and Garfunkel are impeccable, adding a layer of depth and emotion to every song on the album.
"El Condor Pasa (If I Could)" is another standout track, with its haunting melody and beautiful instrumentation. "The Boxer" is a poignant song that speaks to the struggles of the working class, while "Cecilia" is a fun and catchy tune that showcases Simon & Garfunkel's versatility.
The album's production is top-notch, with lush orchestration and creative arrangements that elevate the songs to new heights. "Bridge Over Troubled Water" is a masterpiece that continues to inspire and uplift audiences to this day.
Condition:


Vinyl:

Very Good Plus (VG+)

Sleeve:

Near Mint (NM or M-)
Track List
| | | |
| --- | --- | --- |
| A1 | Bridge Over Troubled Water | 4:52 |
| A2 | El Condor Pasa | 3:06 |
| A3 | Cecilia | 2:55 |
| A4 | Keep The Customer Satisfied | 2:33 |
| A5 | So Long, Frank Lloyd Wright | 3:41 |
| B1 | The Boxer | 5:08 |
| B2 | Baby Driver | 3:15 |
| B3 | The Only Living Boy In New York | 3:57 |
| B4 | Why Don't You Write Me | 2:45 |
| B5 | Bye Bye Love | 2:55 |
| B6 | Song For The Asking | 1:39 |