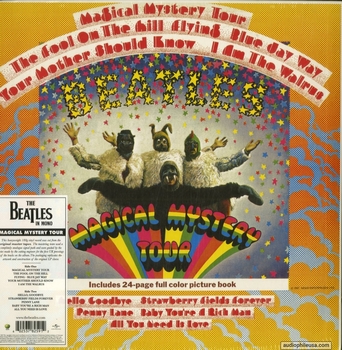 Beatles
Sealed 2014 180gm Mono Remaster In Gatefold. We have just received the legendary album "Magical Mystery Tour" in stock. Released in 1967, "Magical Mystery Tour" features hits like "All You Need Is Love," "I Am The Walrus," and "The Fool On The Hill." This album was made during a time of experimentation for The Beatles, and it shows in the variety of sounds and styles found throughout the album. From the psychedelic "Strawberry Fields Forever" to the whimsical "Blue Jay Way," this album showcases the band's incredible range and creativity.
But what really sets "Magical Mystery Tour" apart is the surreal and imaginative film that accompanies it. The film was made by The Beatles themselves and features a series of vignettes and musical performances that seamlessly blend together to create a truly unique viewing experience. The film has become a cult classic, and its influence can be seen in modern music videos and films to this day.
If you're a Beatles fan and you haven't heard "Magical Mystery Tour," you're missing out on one of their best and most influential albums.
Sold Out
Apologies, the one-of-a-kind album you wanted is sold, but please explore similar records from the largest online collection for more unique finds!
Condition:


Vinyl:

Near Mint (NM or M-)
Track List
| | | |
| --- | --- | --- |
| A1 | Magical Mystery Tour | 2:48 |
| A2 | The Fool On The Hill | 3:00 |
| A3 | Flying | 2:16 |
| A4 | Blue Jay Way | 3:50 |
| A5 | Your Mother Should Know | 2:33 |
| A6 | I Am The Walrus | 4:35 |
| B1 | Hello Goodbye | 3:24 |
| B2 | Strawberry Fields Forever | 4:05 |
| B3 | Penny Lane | 2:57 |
| B4 | Baby You're A Rich Man | 3:07 |
| B5 | All You Need Is Love | 3:57 |