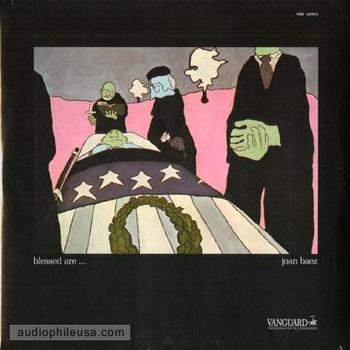 Baez, Joan
Clean 1971 2LP plus 7" Housed In Gatefold Cover. Joan Baez's 1971 album "Blessed Are..." is a powerful and deeply introspective record that showcases the singer's incredible range and versatility. From the hauntingly beautiful "Las, Lonely And Wretched" to the politically charged "The Night They Drove Old Dixie Down," Baez's performances are both emotionally stirring and intellectually engaging.
The album's title track, "Blessed Are," is a standout, with Baez's angelic vocals soaring over a backdrop of acoustic guitar and strings. The song's lyrics, which celebrate the beauty and wonder of the natural world, are as relevant today as they were when the album was first released.
"Blessed Are..." is a testament to Baez's commitment to social justice and her gift for interpreting and adapting the work of other artists. With its mix of original compositions and covers of songs by Bob Dylan and others, the album remains a timeless masterpiece of folk music.
Condition:


Vinyl:

Near Mint (NM or M-)

Sleeve:

Near Mint (NM or M-)
Track List
| | | |
| --- | --- | --- |
| A1 | Blessed Are... | 3:03 |
| A2 | The Night They Drove Old Dixie Down | 3:22 |
| A3 | The Salt Of The Earth | 3:22 |
| A4 | Three Horses | 7:03 |
| A5 | The Brand New Tennessee Waltz | 3:07 |
| B1 | Last, Lonely And Wretched | 3:42 |
| B2 | Lincoln Freed Me Today | 3:21 |
| B3 | Outside The Nashville City Limits | 3:20 |
| B4 | San Francisco Mabel Joy | 4:23 |
| B5 | When Time Is Stolen | 2:58 |
| C1 | Heaven Help Us All | 3:32 |
| C2 | Angeline | 3:37 |
| C3 | Help Me Make It Through The Night | 2:58 |
| C4 | Let It Be | 3:48 |
| C5 | Put Your Hand In The Hand | 3:20 |
| D1 | Gabriel And Me | 3:27 |
| D2 | Milanese Waltz - Marie Flore | 5:55 |
| D3 | The Hitchhikers' Song | 4:19 |
| D4 | The 33rd Of August | 3:42 |
| D5 | Fifteen Months | 4:30 |
| E1 | Maria Dolores | 3:25 |
| F1 | Plane Wreck At Los Gatos (Deportee) | 5:15 |