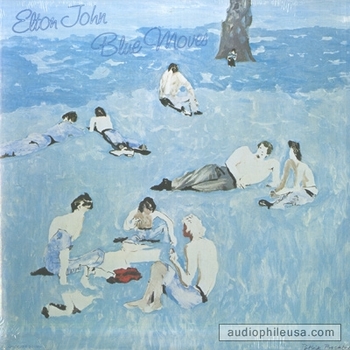 John, Elton
1976 2LP Gatefold Original. Strong VG++ Copy, Close To NM. "Blue Moves" is the eleventh studio album by English singer-songwriter Elton John, released in October 1976. The album was recorded at various studios in France, England, and California, and features collaborations with lyricist Bernie Taupin as well as other musicians such as guitarist Davey Johnstone and percussionist Ray Cooper.
The album was a departure from John's earlier work, featuring a more introspective and somber tone. The lyrics deal with themes such as loneliness, heartbreak, and the pressures of fame. The album's lead single, "Sorry Seems to Be the Hardest Word," became a hit and remains one of John's most popular songs.
Over time, "Blue Moves" has come to be regarded as one of John's most ambitious and personal albums, and it remains a favorite among fans and critics alike.
Condition:


Vinyl:

Very Good Plus (VG+)

Sleeve:

Near Mint (NM or M-)
Track List
| | | |
| --- | --- | --- |
| A1 | Your Starter For... | 1:25 |
| A2 | Tonight | 8:02 |
| A3 | One Horse Town | 5:47 |
| A4 | Chameleon | 5:27 |
| B1 | Boogie Pilgrim | 6:03 |
| B2 | Cage The Songbird | 3:28 |
| B3 | Crazy Water | 5:42 |
| B4 | Shoulder Holster | 4:20 |
| C1 | Sorry Seems To Be The Hardest Word | 3:43 |
| C2 | Out Of The Blue | 6:10 |
| C3 | Between Seventeen And Twenty | 5:10 |
| C4 | The Wide-Eyed And Laughing | 3:20 |
| C5 | Someone's Final Song | 4:00 |
| D1 | Where's The Shoorah? | 4:10 |
| D2 | If There's A God In Heaven (What's He Waiting For?) | 4:20 |
| D3 | Idol | 4:10 |
| D4 | Theme From A Non-Existent TV Series | 1:20 |
| D5 | Bite Your Lip (Get Up And Dance!) | 6:37 |