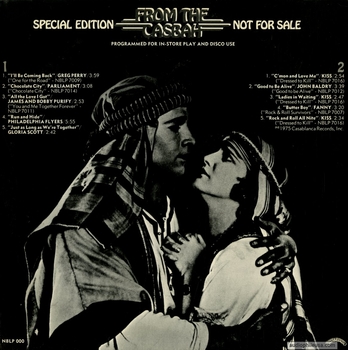 Various
1975 Special Edition Not For Sale Programmed For In-Store Play And Disco Use. Back Side Of Sleeve Is Blank. Vinyl Is NM. Includes Greg Perry, Parliament , James And Bobby Purify, The Philadelphia Flyers, Gloria Scott, Kiss, John Baldry & Fanny.
Looking for a captivating musical experience that takes you on a journey through the heart of the Casbah? Look no further than the album "From The Casbah" by Various Artists, a masterful compilation of tracks that capture the essence of this vibrant and dynamic cultural hub.
Featuring a diverse range of artists and musical styles, "From The Casbah" is a true celebration of the rich tapestry of sounds and rhythms that make this region so unique. From the sultry, hypnotic beats of traditional Berber music, to the fiery energy of Arabic pop, to the soulful melodies of Andalusian flamenco, this album has it all.
But what truly sets "From The Casbah" apart is the way it weaves together these disparate elements into a cohesive and compelling whole. Each track is masterfully crafted to lead seamlessly into the next, creating a musical journey that is both engaging and immersive.
Whether you're a seasoned world music aficionado or a curious newcomer to the genre, "From The Casbah" is a must-have addition to your collection. So why wait? Order your copy today and let the vibrant rhythms of the Casbah transport you to a world of music and wonder.
Condition:


Vinyl:

Very Good Plus (VG+)

Sleeve:

Very Good Plus (VG+)
Track List
| | | |
| --- | --- | --- |
| | Music To Delight Your Customers | |
| A1 | I'll Be Coming Back | 3:59 |
| A2 | Chocolate City | 3:08 |
| A3 | All The Love I Got | 2:53 |
| A4 | Run And Hide | 5:55 |
| A5 | Just As Long As We're Together | 2:42 |
| B1 | C'mon And Love Me | 2:54 |
| B2 | Good To Be Alive | 3:39 |
| B3 | Ladies In Waiting | 2:47 |
| B4 | Butter Boy | 3:20 |
| B5 | Rock And Roll All Nite | 2:34 |